Convince your Boss
So you are wondering: how could you possibly convince your boss to be sent over to Belarus for the beginning of summer? Read on! We'll provide you with plenty ammunition to do so.
1. Who's going to be there?
Being a web-developer, your job has been built upon the standards of the web. We will be having a lot of legends in the front-end world.
2. I don't like tech events, they're too corporate
Joke is on you, we are the least corporate event you have ever been to.
We have no sponsor booths.
We have brilliant and funny MC's.
Our venue is a frikkin' cinema!
3. Tickets must be expensive?
Nope, and if you can find any other conference with an equally good line-up or better, we promise you the price of a ticket won't be as low as ours.
4. I can't take time of work unfortunately
Fear not, this year Frontend United is on Friday the first of May, which is a public holiday, and the Saturday after that is just an added bonus! Sip a coffee with other front-end enthusiasts and swap the relaxing sound of Sass-writing and overheating laptops running Slack with JS-framework name dropping during mini-social or cultural activities, so don't worry about getting bored.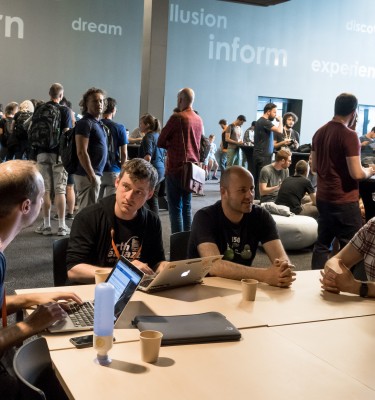 5. I've seen Belarus already
Great, Why don't you pick on of our spinoff-locations around the globe and follow the event from there? We are currently in the process of reaching outside of the EU, by setting up simultaneous live streaming spinoff-events. These spin-offs will be organised locally, and will get as much of the free stuff as we can get there! These events will each have their own timezone-specific schedule during the same days. These livestream-url's however will be private, because we want everyone being able to meet people from the same industry, network and most of all have fun!
Keep an eye on our website where the spinoffs will be popping up! Throughout the conference, we will have a dedicated host, taking questions only online to keep everyone as engaged as possible.
6. I'm scared of my boss
Most of us are, but we have an email-address that we send the most ridiculous emails from anyway. So relax, sleep on both ears, drop us an email, and we'll contact your boss for you and tell him we can't have the event without you (try us, we're not kidding!).