Get Involved
Frontend United are comfy, developer first conferences created and maintained by a handful of volunteers. Every year it has been moving from country to country, bringing the conference to different parts of the world.
Become a volunteer
We would love to have you as a volunteer during a conference! 
Please: fill in this form.
We'll get in touch with you about further details as the event approaches!
Crazy ambitions
Intrigued and want to get to know us better? Jump in to your comfy pants, turn on the scent-candles and read about all of our initiatives in: "The wild years of Frontend United".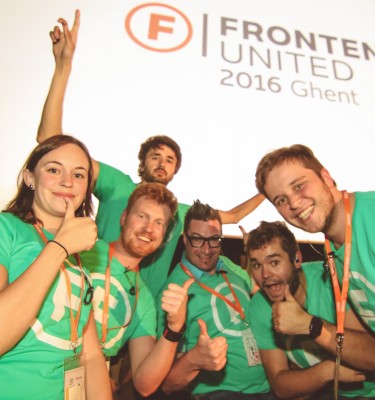 Our moral compass
If you want to read on the beauty of a garden and dancing like no one is watching, this is our current stand on equality, diversity, inclusion and being good people in "The direction of our moral compass".
Together we share knowledge far and wide
We are looking to connect more people, spread more knowledge, advocate louder and reach wider and further than before, but for this, we need your help.
Get involved
If you are someone who would love to get involved in this cause, then we really really would love to hear from you. Even if you only want to be responsible for one of the aspects of the conference, we would love to have you on board.
Doesn't matter from where you are, if you have the energy and time, send us an email!